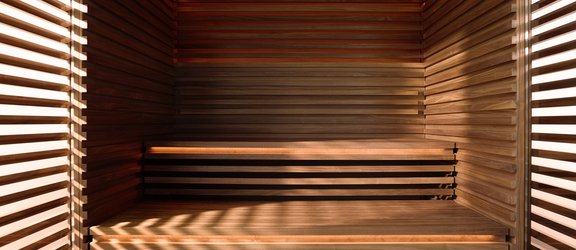 Health & Wellbeing at the core
The history of KLAFS begins with Erich Klafs. Whilst he did not invent the sauna, he made a significant contribution to its breakthrough.
An ingenious idea
In 1952, Erich Klafs personally delivers the first sauna, using his car and a small transport trailer. This was the first completely prefabricated sauna. What was previously built on site by a carpenter over a number of days, and often varying in quality, is now, thanks to a sophisticated production line, a product of assured quality and affordable, boasting a swift and efficient assembly time. An ingenious idea, that was ahead of its time.
A clear mission
Helping the sick - and protecting the healthy from illness: This is how Erich Klafs expressd why he devoted his whole life to medical bath therapy and later to the sauna. We are fully invested in the tradition of Erich Klafs. Rest assured, wherever it says KLAFS, there is wellbeing and health at the core. It's simple - we want people to feel better, both physically and mentally. This is the clear mission that drives us day after day.
A clear promise
We firmly believe that Erich Klafs, after being ridiculed for his dream of selling saunas, would be proud of what evolved from his vision.
A clear strategy
Every strong brand needs a clear strategy. We want to help our customers completely relax through first-class design. It's important to us that our products look and feel great, right down to the smallest detail.
Always near you
Of course, our boss can no longer personally deliver every sauna with his car and trailer - as Erich Klafs did in the early days. But we at KLAFS are still here for you today, and every day - whenever you need us, all over the world. Like Erich Klafs, we are convinced that every product is only as good as the advice and support available before, during and after the purchase.
1928

Foundation in Szczecin (today Poland)

Erich Klafs founded the company in Szczecin in present-day Poland.

1948

New beginning in Schwäbisch Hall

Erich Klafs registers his business, a trade for electrical and hydrotherapeutic equipment and other products in Schwäbisch Hall, thus laying the foundation for today's KLAFS company, which is closely associated with Schwäbisch Hall.

1952

Erich Klafs sells his first sauna

Erich Klafs delivers his first sauna with a car and small transport trailer.

1966

Foundation KLAFS GmbH Austria

1970

New building in the Schwäbisch Hall industrial park

1972

Foundation KLAFS AG Switzerland

2004

Opening of House of Sauna & Spa

2008

SSF Schwimmbad GmbH becomes part of the KLAFS Group

2011

Röger GmbH becomes part of the KLAFS Group

2015

Foundation KLAFS Netherlands

2021

Guncast Swimming Pools, a British luxury swimming pool building & design company, becomes part of the KLAFS Group.
Market leader. 801 employees. €135 million in sales in 2021. 27 KLAFS showroom centers. Over 240,000 KLAFS saunas have been realized and installed worldwide to bring you complete relaxation. 2,811 individual parts are required for the production of the PURE Sauna.
Expertise & advice
On the journey to your dream sauna, we are always by your side. In numerous personal discussions, our expert advisors take time for your wishes. We are here for you at any time.
Advice
Everything from a single source
From the initial idea to regular maintenance - we are your partner with competent consultants, interior designers, technicians and experienced fitters. Service included: On-site customer service, warranty services and accessories.
Company
Product innovations
It's nice when expert judges are enthusiastic. And even nicer when our customers are. Take a look at our award-winning innovations, excellent design and praised brand work.
Awards
KLAFS global
KLAFS products are only available from KLAFS. Contact your KLAFS partner now to find the right product for your needs and requirements.
Find KLAFS Partner
Contact KLAFS
Do you have any questions about the KLAFS company or our products? We will be happy to get back to you!
Contact KLAFS
Order Catalogue
Get inspiration around sauna, spa and wellness with our free catalogues.
Order catalogue