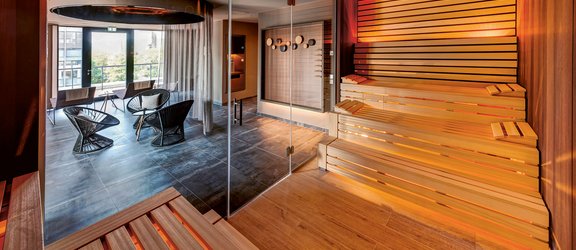 Exclusive & individual
Everything from a single source
As individual as your project
The different forms of bathing from KLAFS bring plenty of variety to your wellness area. Work with our design and sauna experts to create a spa area that will amaze your guests and leave them with only one wish: To come back as soon as possible.
Sauna, SANARIUM®
Let your wellness vision become reality.
Here's how we see it: The greater the challenge, the more extraordinary the result.
Design in every detail
KLAFS saunas are as exclusive and individual as your imagination. Our design department, with many years of experience in the international wellness business, can be involved in the design process with varying degrees of intensity. With KLAFS, you have the chance to work hand in hand with your architect.
From small to large
From a small and cosy feel-good area to a luxurious hotel spa, we can create everything you can imagine. With every project, our aspiration is to construct something unique.
Matching the overall concept
From the idea to the concept, from consulting to implementation to long-term service. Your spa will be implemented exactly as requested and in line with your overall individual concept.
Special benches
Our range of bench options offer maximum comfort and design freedom. We're proud to offer floating benches with a lightweight appearance, complete with a stable, intricate support base. Alternatively, why not opt for a swinging ambience or create different comfort zones with the PROFI SI benches, which, thanks to our SI manufacturing technology, allow for uncomplicated, freely curved shapes.
Individual woods and finishes
Exterior and interior claddings are available in a wide variety of woods and finishes. Partial wall cladding made of natural stone slabs or wall inlays in cleaved timber look are completely possible with KLAFS. Custom wood millwork or backlit screens make your spa entirely unique!
KLAFS reference catalog
Are you looking for exceptional ideas for your spa project? From a small private sauna room to a luxurious hotel spa, we make everything you can imagine possible - all over the world.
Get the new KLAFS reference catalog at home and immerse yourself in the world of KLAFS.
Order reference catalog
Sauna, SANARIUM® equipment
Innovative in design & technology
Lighting
Our lighting options are equally as tasteful and high quality as our saunas. From a modern minimalist lighting design to cosy and opulent staging, we offer everything to provide a successful lighting installation. Our options include: SUNSET, an indirect lighting of the benches, the ceiling and ceiling cove with LED, AURORA luminous ceiling, STARRY SKY in the sauna ceiling, backlit murals or colored light with skin-tightening effect with the COLOR LIGHT with LIFTLIGHT. When it comes to your sauna, we can plan the lighting to fit your spa concept!
Glass fronts / safety glass
With our frameless glass fronts, the sauna and steam bath can be visually identical in construction. The glass panes can be replaced without dismantling the exterior cladding. Our ESG glass fronts are also a great choice in terms of safety the glass fronts are certified according to DIN 4103-1, shock and impact resistant and insensitive to temperature differences. Built-in edge protection, deflection proof and ESG-H (hot storage test to prevent spontaneous breakage) contribute to further safety in the spa.
Insulating glass front
Interior glass partition walls reduce the heating energy demand significantly. Particularly in the continuous operation of a commercial facility, this contributes to reduced running costs. The KLAFS insulating glass front not only helps with energy efficiency, and lower heating costs, it is also a visual highlight. It features an extremely slim design with glass joints, corners and cover profiles, and concealed retaining profiles.  A smart, chic look to match any interior design.  
Anodizing package
Hinges, profiles and door handles are perfectly possible through the use of anodized aluminum. There are five anodized colours to choose from: champagne, gold, light bronze, dark bronze and black all with exclusive, high-quality design and surface finish and extremely robust and easy to clean.
Heating technology
Thanks to our own development department, we are the only sauna manufacturer that offers everything from the cabin and heater to the control system, all from one place and our customers benefit from this. How, you may ask? With our optimised, precisely working control algorithm, we can ensure that heat is delivered evenly via the heating technology, without the feel-good climate in the sauna fluctuating. Another plus: our sauna heaters have a large amount of sauna stones, which guarantees they deliver the heat in a particularly balanced way.
Control units
KLAFS sauna control units use the latest technology: microprocessors, phase-controlled switching of relays and a diagnostic system ensure convenience, durability, and safety.
Features
Element saunas with dovetailed and glued squared timber substructure, warp-free, thermal insulation, and vapor barrier
Exterior and interior trim in a wide range of woods and decors to choose from
Partial wall cladding/wall inlays in various decors (natural stone slabs, split wood look, etc.) on request
Intermediate sizes in a 10:10cm grid are available as standard.
State-of-the-art glass construction technology: Insulating glazing and frameless all-glass front is possible throughout in an anodized finish
On request, individual glass elements and fronts and existing window soffit can be added to your design
Sauna controls with the latest technology in an attractive, elegant appearance
Modern sauna heaters with innovative and safe technology that is easy to use
High-quality equipment options in the bench design for headrests, backrests and panels between the benches
Internationally experienced logistics and assembly teams as well as high quality shipping and customs handling
Find your nearest KLAFS partners
Select your country to find find your nearest KLAFS partners and contact them today.
Even more variety for your guests
SANARIUM®
The KLAFS SANARIUM® brings variety to your spa area. With the help of a sophisticated automatic climate control system and state-of-the-art electronics, controlling both temperature and humidity, no sauna wish is left unfulfilled. For a gentle relaxation experience we recommend 50 to 60 °C and a humidity of 20 % which is perfect for a stimulating bathing experience. With the addition of herbal scents in the aroma bath the fully automatic fragrance control system comes into play.
KLAFS outdoor saunas offer everything that a modern outdoor sauna must have today: a chic design, good thermal insulation for low energy loss and the use of high-quality materials - especially for the exterior cladding. The only thing you need to do now is choose the right floor plan for relaxing. This will guarantee a special, bespoke sauna experience for your guests.
Dreamlike wellness areas and clever solutions. Get interesting ideas for your own project now!
Show all references