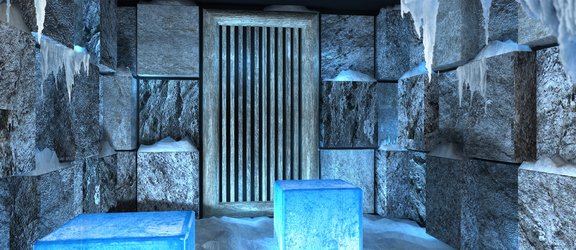 Snow in every season
Self-sufficient system
Cooling down in a winter landscape
One of the most fascinating cooling experiences of all awaits the discerning sauna guest in the SNOW PARADISE, complete with wintry all-year-round fun that not only promotes blood circulation but also has powerful beneficial effects on the lungs and respiratory tract.
SNOW PARADISE
Snow in every season
Cool off in a winter landscape amidst rocks and crevasses with the finest powdered snow.
Dreamlike winter world
Winter fun all year round with natural, fine powder snow made of pure water, which promises to transport you to a dreamlike winter world.
Stimulating and relaxing
What could be more refreshing than enjoying the uniquely satisfying "Finnish" cooling experience after a sauna session at a tingling -10°C? The cooling down of your snowy paradise has beneficial effects on the lungs and respiratory tract and, in combination with the sauna session, can help to promote healthy blood circulation. Further benefits include training your metabolism and immunity.
State of the art construction
Each snow cabin is highly insulated and equipped with an entrance lock. This ensures a constant climate in the SNOW PARADISE and helps to save energy. The optimized construction system of the snow paradise is physically tested, verified, and equipped with hygienically harmless materials and the latest safe technology.
KLAFS reference catalog
Are you looking for exceptional ideas for your spa project? From a small private sauna room to a luxurious hotel spa, we make everything you can imagine possible - all over the world.
Get the new KLAFS reference catalog at home and immerse yourself in the world of KLAFS.
Order reference catalog
Snow paradise interior design
The windows can be made in different dimensions. A ceiling dome, LED lighting and starry sky complete the interior. You have a multitude of additional options at your disposal - illuminated acrylic ice cubes, tree trunks made of waterproof GRP and artificial rock objects are all available for you to choose from.
SNOW PARADISE customisation
A wide range of options are available to customise your snow paradise. For example, individual motif milling in the panel of the snow outlet grille is possible, as well as assorted designs of artificial stone and a whole range of exterior cladding finishes.
Features
Holistic stimulating and tingling cooling experience 
Wide range of equipment options, customisation options and product lines
Graceful glacier landscape that transports you to a dreamlike winter world after opening the door
Snow is processed exclusively from air and water with cold-generating compressors and state-of-the-art plant technology, and is free of any chemical additives
Each snow cabin is highly insulated and equipped with an entrance lock. As a result, the snow melts less, the defrosting intervals for cleaning are extended and the operator has lower maintenance expenses
Building system verified, tested and optimized by building physics
Minimum size: Height x width x depth: 2.65 x 2.40 x 3.40 m (installation height min. 2.90 m)
Find your nearest KLAFS partners
Select your country to find find your nearest KLAFS partners and contact them today.