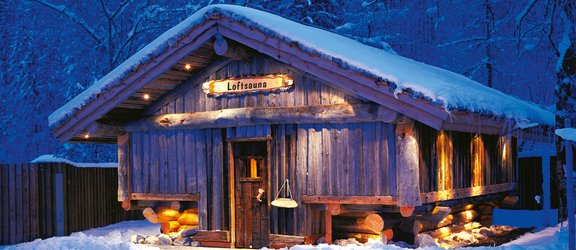 Alpspitz-Bade-Center
Nesselwang, Germany
Idee & Konzeption
The LOFTSAUNA® visually matches the design of the overall complex and the sauna garden provides bathers with a beautiful view of the mountain panorama.
Features
Total area: 2,000 m². Indoor area: 500 m²: mental sauna, SANARIUM®, steam bath, relaxation area, sauna bar, massages, solariums. Outdoor (without pond area): 1,500 m²: sauna garden with LOFTSAUNA®, Kelo log cabin sauna, panoramic rest house, sauna lake.
The LOFTSAUNA® in Nesselwang was the first of its kind in Germany and an idea and development of KLAFS. Guests sit on the gallery, the loft, around the huge stove and watch the sauna master celebrate a particularly intense infusion on over two tons of hot stones. An original Finnish sauna spirit, the Haltija, watches over the ritual. In the Alpspitz bathing center, after the infusion, guests have the special opportunity to jump directly into a cold bathing lake with crystal-clear, cool water in the sauna garden, which is always fed by fresh mountain water.
ALPSPITZ-BADE-CENTER
Badeseeweg 11
87484 Nesselwang
Germany

To the website