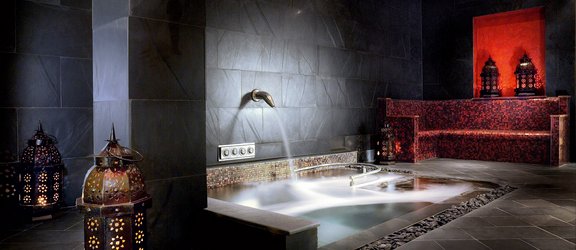 Ic Mar Menor Resort & Spa
Murcia, Spain
Idea & design
Spanish and Andalusian elements blend with Moorish charm and Mediterranean elegance.
Features
Total area: 1100m². Separate areas for ladies and gents, featuring: sauna, steam bath, shower area, luxury showers, heated benches, ice fountain and vitality pool. Indoor and outdoor pools. Health and gym centre with sauna, steam bath, shower zone, heated bench and ice fountain. Massages, body packs and facial treatments from ESPA. Private spa suite with steam bat
The design of the spa area picks up on the style of the hotel: a mixture of Spanish/Andalusian elements, Oriental charm and Mediterranean chic. Clear and simple contours and natural materials link the interior with the surrounding landscape.
INTERCONTINENTAL MAR MENOR GOLF RESORT & SPA
Calle Ceiba
Torre Pacheco
Murcia 30700
Spain

To the website