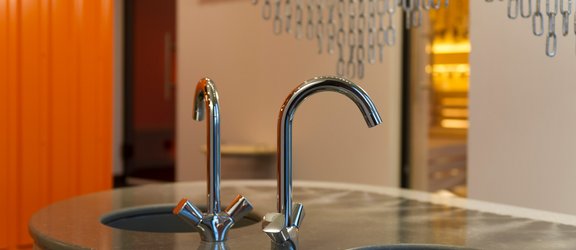 Jaz Hotel
Amsterdam, Netherlands
Idea & concept
Using light, materials and their passion, the interior designers have created a unique design soundtrack for the Jaz in the City hotels – and you won't be able to resist singing along. Inside the Jaz hotels' prototype in Amsterdam, the sound is characterised by walls made of concrete and discarded shipping containers, ceilings made from expanded metal, bare industrial floors and highly distinctive Dutch orange.
Dimensions
Total area: 108 m². Printed PROFI sauna, D6 orange steam bath, heated bench with heated foot basins.
The walls and ceiling of the individually designed Hot Poetry sauna cabin are adorned with proverbs and aphorisms. The steam bath is pure Dutch orange, and the towels hang on repurposed guitar holders. A special kind of music.
Awards
2019 Dutch Hotel Award 2019.
JAZ HOTEL
De Passage 90, 1101 AX
Amsterdam-Zuidoost
Netherlands
JAZ Hotel Amsterdam, Netherlands: In Hot Poetry, a custom-created sauna cabin, proverbs and aphorisms adorn the walls and ceiling.
JAZ Hotel Amsterdam, Netherlands: Custom printed PROFI sauna
JAZ Hotel Amsterdam, Netherlands: The steam bath is pure Oranje, with towels hanging from misappropriated guitar holders. This is where the music plays.
JAZ Hotel Amsterdam, Netherlands
JAZ Hotel Amsterdam, Netherlands
JAZ Hotel Amsterdam, Netherlands