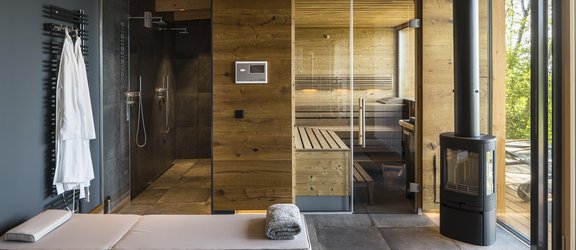 A house to feel good in
In beautiful Carinthia, these owners realized their dream of their own wellness and well-being house.
While the custom-made PREMIUM sauna with a large panoramic window pampers the body with no less than 5 bathing forms thanks to the SANARIUM® heater, the adjacent walk-in shower, comfortable benches, fireplace and terrace provide cooling, relaxation after the sauna session and fresh air. The associated fitness room perfects the whole wellness area into an oasis of health and relaxation.
The individual PREMIUM sauna, made of thermally treated and brushed wood from the Vario spruce, was adapted exactly to the slope of the room and forms the heart of the wellness house. With wide seating and lounging areas, this offers enough space for a comfortable sauna with a view of the green surroundings.
In terms of design, the focus was on lots of wood and glass with as many natural materials as possible, such as large-format natural stone tiles in the sauna, shower area, relaxation room and fitness area.
A free-standing fireplace, carefully selected relaxation loungers and textiles complete the concept. Thus, a perfect retreat for family and friends was created, where they can decelerate and relax in a nature-conscious way.
Sauna
PREMIUM sauna model customized
Interior cladding made of thermally treated and brushed Vario spruce
KLAFS global
KLAFS products are only available from KLAFS. Contact your KLAFS partner now to find the right product for your needs and requirements.
Find KLAFS Partner
Contact KLAFS
Do you have any questions about the KLAFS company or our products? We will be happy to get back to you!
Contact KLAFS
Order Catalogue
Get inspiration around sauna, spa and wellness with our free catalogues.
Order catalogue