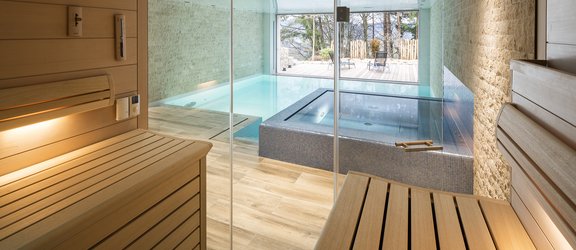 Private spa thanks to residential house extension
A wellness highlight that deserves full attention: The client succeeded in realizing a wellness oasis with a particularly high-quality sauna and pool facility in the technically and creatively sophisticated annex of the existing residential house.
To have a pool with sauna in your own house has long been one of the client's dreams. Since his father is an architect himself, he took over the design planning and construction supervision himself. The property in the vicinity of Basel is located on a steep slope and offers a wonderful view of nature. A small, high-quality wellness oasis was built on the sloping side of the existing residential building.
Through the full-sided glass front, a lot of light streams into the swimming hall and the wellness connoisseurs have a wonderful view of the landscape. The client paid special attention to the selection of materials. The sandstone walls harmonize perfectly with the pool and Lounge Q sauna from KLAFS.
The sauna was specially adapted to the spatial conditions. Thanks to the large threshold-free glass door front, the sauna visitor has a great view of the pool and garden. The back wall made of glass was attached to the visible natural rock wall and nestles perfectly into the ambience. The interior of the sauna is determined by clear shapes, simple elegance and perfect workmanship. For the wall cladding, therefore, only the fine-growth, knot-free hemlock wood with cross-laid panels was considered, which gives the interior a particularly high-quality character and makes the sauna guests feel comfortable. Thanks to the ergonomic comfort benches and starry sky, relaxation cannot be more beautiful.
The sauna has the Sanarium® additional feature, which was developed exclusively by KLAFS. It turns one sauna into five: A classic sauna, a warm air bath, a tropical bath, an aroma bath and a soft steam bath. The sauna guest simply selects the climate zone he or she currently feels like, and the Sanarium® automatically adjusts the humidity and temperature. By increasing the humidity, for example, the Sanarium® can keep the "felt" heat constant even at a factually lower temperature.
Sauna
Sauna Lounge Q - custom-made
Interior cladding: Transverse hemlock panels with ergonomic comfort benches
Exterior cladding: Glass front
SANARIUM, BONATHERM VS under bench sauna heater
Additional features: Starry sky, touch control, sound package
KLAFS global
KLAFS products are only available from KLAFS. Contact your KLAFS partner now to find the right product for your needs and requirements.
Find KLAFS Partner
Contact KLAFS
Do you have any questions about the KLAFS company or our products? We will be happy to get back to you!
Contact KLAFS
Order Catalogue
Get inspiration around sauna, spa and wellness with our free catalogues.
Order catalogue