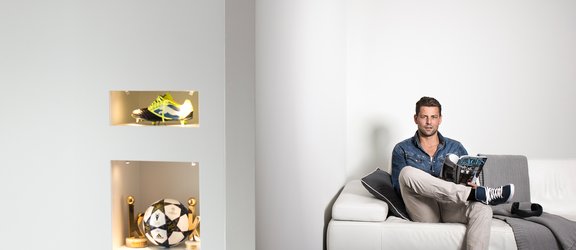 Roman Weidenfeller's spa dream come true
This is where the popular German premier league goalkeeper relaxes at home.
Regenerate like the professionals
Successful sports stars know that using a sauna regularly benefits their health and performance - which is why they relax in saunas on a regular basis.
After training sessions or home matches, the Borussia Dortmund football team relaxes in a KLAFS sauna. Borussia goalkeeper Roman Weidenfeller, however, is one step ahead of the rest of his team: he's created his own private spa dream come true with KLAFS, in the comfort of his own home. Let's take a look at what the popular premier league star has installed to relax at professional level...
Based on the SHAPE sauna, Roman Weidenfeller asked KLAFS to design a customized sauna with a full glass front. The result is a feast for the eyes - both from the outside looking in, and from the inside looking out. Preferring user-friendly controls, Weidenfeller opted for the elegant TOUCH CONTROL sauna control panel which enables him to start any one of a number of elaborate sauna settings at the mere touch of a button.
To maintain peak fitness, Roman Weidefeller also does regular weight training at home and exercises on his exercise bike. Afterwards, he relaxes in the sauna - because as a professional athlete, he knows how good the soothing warmth is for tired muscles, and how beneficial the sauna is for regeneration.
Roman Weidenfeller uses an intelligent module with his KLAFS sauna to target stiff muscles: the InfraPLUS optional infrared extra. Here, infrared-C radiation generates radiant energy to warm his back more intensely. Four SensoCare sensors control the intensity automatically.
Roman Weidenfeller is very much in demand. So he doesn't have much time to relax. That's why his private spa oasis includes a SWAY pendulum lounger by KLAFS. Oscillating gently, this swinging lounger rocks the premier league star into a restful nap. For which he doesn't even have to get undressed. The sunlit meadow SONNENWIESE® installed above suffuses the room with all the goodness of sunshine.
The interior paneling and benches of the SHAPE designer sauna are finished in hemlock throughout, creating a unique atmosphere of relaxation.
Thanks to the elegant TOUCHCONTROL sauna control system, Roman Weidenfeller can start the wellness programs devised by sauna experts with a touch.
With its modern, sporty design, the SHAPE sauna fits Roman Weidenfeller's lifestyle perfectly.
With its large glass fronts, the sauna allows fascinating insights and views.
The backrest of the InfraPLUS infrared additional feature can be adjusted in several stages in terms of inclination.
Roman Weidenfeller also trains at home with weights or on the exercise bike to stay in top shape.
After that, of course, he goes to the sauna to relax. Roman Weidenfeller also likes to use his additional InfraPLUS infrared feature to relieve muscle tension in a very targeted way.
In his private spa room, the popular Bundesliga professional can switch off perfectly and recharge his batteries for new feats of brilliance.
Making the most of short breaks to relax - Roman Weidenfeller relies on the innovative SWAY pendulum lounger from KLAFS to do just that. In addition, the sunlit meadow SONNENWIESE® mounted above it brings the beneficial properties of the sun into his home.
KLAFS global
KLAFS products are only available from KLAFS. Contact your KLAFS partner now to find the right product for your needs and requirements.
Find KLAFS Partner
Contact KLAFS
Do you have any questions about the KLAFS company or our products? We will be happy to get back to you!
Contact KLAFS
Order Catalogue
Get inspiration around sauna, spa and wellness with our free catalogues.
Order catalogue