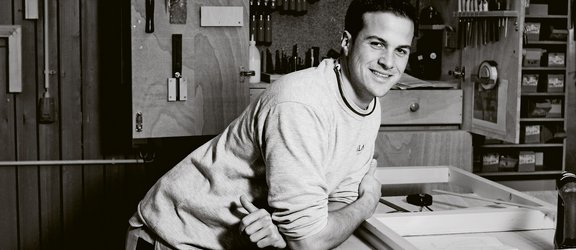 Useful tips for installing a sauna
Who wouldn't like to have a sauna in their own home? Let's imagine the first step has been taken, and the new sauna has been purchased. It just needs to be installed. Should you choose not to enlist the help of a professional when it comes to installing your sauna, things can often get complicated. After all, installing a sauna yourself is no easy task. It takes time, patience and knowledge. That's why we've put together a number of tips, tricks and information for you here. Before you start building your sauna, there are a few important things you need to be aware of.
Long and narrow rooms, small and square rooms, basement rooms or attics with sloping ceilings: virtually any room can be used for a sauna. With made-to-measure solutions, we can install your sauna into the room of your choice.
Customising the design of a sauna, relaxation area and shower area is only one part of the equation. Structural conditions also need to be taken into account – from the electricity supply to ventilation to flooring. Ideally, all such aspects should be discussed with our professional consultant during an on-site visit.
To accommodate four people, you'll need a minimum floor area of 2x2m for your sauna. That being said , if you have additional space at your disposal, the more the merrier! When choosing a layout, remember that the sauna benches can be arranged in a variety of ways. A corner connection, however, is the most ideal solution. Not only is this more social, but it also makes best use of the available space. With the BONATHERM underseat heating system, the sauna heater is concealed discreetly underneath the sauna benches – saving yet more space.
4. Insulation: Saving energy for the environment
Most heat – and thus energy – is lost through the ceiling. Therefore, it's particularly important to ensure your sauna walls and ceilings comply with RAL standards (The Quality Assurance Board for Sauna, Infrared Cabin & Steam Bath Construction).
5. The right wood for the right sauna climate
When it comes to the wood for sauna walls and ceilings, professional craftsmanship is imperative in order to keep warmth and humidity inside. Canadian hemlock and Scandinavian spruce are both ideally suited to this purpose. The "Blue Angel" seal of approval certifies that the sauna wood used is low-emission and sustainably sourced. All KLAFS prefabricated saunas in Canadian hemlock, Scandinavian spruce and solid wood saunas hold this seal of approval. Our products also comply with the RAL guidelines and are thus entitled to bear the RAL-RG 423 quality seal.
​​​​​​​6. Sauna control panels and sauna heaters
Top quality, state-of-the-art sauna control panels offer intuitive user menus. All key data – temperature, humidity, time, warming-up phase etc – can be seen at a quick glance. Together with the ventilation of the sauna and the sauna wood, it's the sauna control panel and sauna heater which are responsible for creating the perfect climate inside the sauna. The sauna heater should not be hotter than 100°C on the outside. To ensure the sauna heats up within a reasonable time period, the output of the sauna heater should correspond to the size of the sauna. The sauna heater is surrounded by protective casing and grating to ensure sauna goers do not burn themselves.
To ensure stale air can be replaced with fresh air as required, a draught-free ventilation system is necessary. Ideally, air throughput should be adjusted according to the size of the sauna and the number of people using it. Not only does this help maintain the ideal sauna climate, but it also saves on energy and associated costs.
For safety reasons, sauna doors open outwards. Glass doors offer transparency and should be made of shatterproof glass. A wooden door handle on the inside offers protection against burns.
Sauna backrests should be shaped ergonomically and manufactured cleanly and with precision. The wood should be free of knots, resin and splinters, yet capable of withstanding a high level of humidity (sweat) and high fluctuations in temperature. Two types of wood are ideally suited to this purpose – poplar and obeche. The LOUNGE sauna also offers ergonomically shaped sauna benches.
10. Quality and certification
Consumers should pay attention to four quality labels when choosing a sauna:
KLAFS real wood veneers have also been awarded an environmental seal of approval from the IHD (Institute for Wood Technology) in Dresden, certifying that they do not contain formaldehyde or other VOCs (volatile organic compounds).