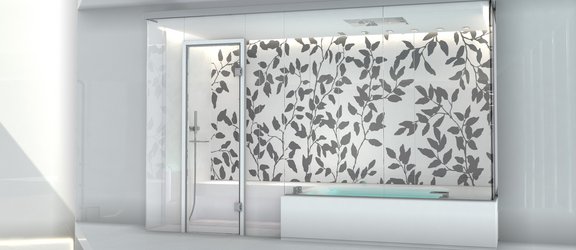 Combination of steam and tub bath
5 forms of bathing in one
D12 Vario onsen bath

equipment
Onsen bath
Originating from Japan, the onsen bath was a public bath fed by hot volcanic springs which enveloped the bather in delicate clouds of water vapour. KLAFS have recreated this experience in form of the D12 Vario. The D12 Vario onsen bath stimulates blood flow, circulation and metabolism with the buoyancy of the warm water, helping to relax the muscles and also relieve the joints.
Steam bath
In addition to bathing in the tub, the D12 Vario also allows you to simply enjoy a steam bath the warm and humid bath with its myriad of effects, provides well-being throughout the seasons. Your steam bath can be made even more atmospheric with coloured lights integrated into the ceiling cove, which immerses the D12 Vario in any colour that suits your mood. Infusing the steam with fragrance will ensure that your bathroom becomes a feel-good bath.
Shower and bathing facilities
The large shower field, located above the reclining surface provides cold and warm water showers according to the Kneipp concept. Three programs, combining water temperature and volume, are available for selection: balancing, invigorating or relaxing. The integrated bath invites you to relax in the water.
Shower and cooling
Whether for body cleansing or cooling down after a sauna or steam bath, the shower is an integral part of any spa experience. Rapid cooling is not just invigorating, it also ensures that dilated blood vessels reconstrict. Naturally, you save on the costs of installing a separate shower if you include the D12 Vario in your bathroom.
Features
The D12 Vario onsen bath from KLAFS allows you to experience 5 bathing forms at once.
A real all-rounder.
Combination of steam and tub bath.
Cold and hot water showers are provided by the large shower area and an additional shower.
A colour light immerses the D12 Vario in any colour to suit your mood.
In the Argento Bianco design variant, the D12 Vario makes a statement with subtle colours.
Assembly is carried out by our trained professional fitters.
Find your nearest KLAFS partners
Select your country to find find your nearest KLAFS partners and contact them today.
What makes the D12 Vario onsen bath so special?
The onsen bath is a great place for bathing, steam bathing and relaxing together. Everyone can decide for themselves whether they prefer to submerge or let the steam clean their skin. Inspired by the Japanese onsen, bathing here is not only healthy for the body and soul, but also offers time for conversation in a relaxed atmosphere. In Japan, people opt to relax in an onsen bath after work and enjoy the feeling of refreshment that bathing in steaming hot water leaves behind.
KLAFS global
KLAFS products are only available from KLAFS. Contact your KLAFS partner now to find the right product for your needs and requirements.
Find KLAFS Partner
Contact KLAFS
Do you have any questions about the KLAFS company or our products? We will be happy to get back to you!
Contact KLAFS
Order Catalogue
Get inspiration around sauna, spa and wellness with our free catalogues.
Order catalogue