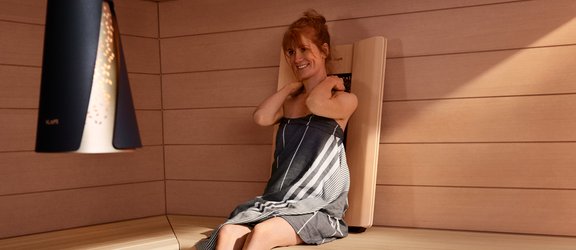 Combine infrared and sauna
Flexible integration into the sauna
Combine infrared and sauna
The classic way of sauna bathing is relaxing, exciting and, above all, hot. Infrared heat, on the other hand, is gentle and has a local effect. The combination of both has a multitude of advantages.
For those who want to enjoy the soothing warmth of infrared radiation in addition to sauna bathing, InfraPLUS is ideal.
Lean back and relax
Infrared heat treatment is often referred to as the 'deep heat effect'. Our muscles absorb the infrared rays particularly well, resulting in a highly effective improvement of blood circulation.
Enjoy warmth with a view
Those who integrate a KLAFS infrared seat into their own sauna with InfraPLUS complement the sauna experience with another pleasant heat application. A terry cloth cover, which is available in the KLAFS Sauna Store, makes reclining even more comfortable.
Sauna the way you like
Infrared heat is one of many additional features that complement your sauna. Choose what suits you and your needs to create your own individual dream sauna.
KLAFS Catalogue
... and the world can wait. Immerse yourself in some time-out with reading and relaxation. The KLAFS catalogue has 117 pages dedicated to the sauna lifestyle. Factsheets on every single KLAFS product await you between interesting stories.
Order our catalogue free of charge to your home and start your journey to your own dream sauna with precious time-out from hectic everyday life.
Order catalogue
Technical details of the supplementary equipment for infrared.
SensoCare infrared heating
To ensure that the infrared source can fully develop its beneficial effect and your skin is not overly stressed, four SensoCare sensors in the infrared radiator measure the skin temperature without contact throughout the program and automatically adjust the intensity of the radiation to your body. With this assurance, you can simply sit back, relax and let the pleasant warmth act on the body.
Read more
Ceramic infrared heater
The ceramic infrared heater is based on highly reliable infrared heating rods filled with lava sand with automatic, sensor-controlled seat detection.
Adjustable backrest
For comfortable relaxation, the backrest can be adjusted forward in several steps. This provides a comfortable place to sit - even when you are taking a sauna.
Control units 21029 and 21033
The 21029 and 21033 control units regulate the intensity in three stages: Soft, Medium or Intensive. As soon as you sit back, the program will begin. Thanks to the comfort heating provided by the sauna heater, the cabin interior is always quickly heated to a comfortable temperature of between 27 °C and 35 °C, even for a short infrared treatment.
Features
With KLAFS InfraPLUS, infrared-C rays warm the back area particularly intensively.
Targeted heating with automatically controlled intensity thanks to the four SensoCare sensors.
Backrest adjustable in several steps.
Meets the guidelines of the RAL quality association for infrared thermal cabins.
The patented low-temperature ceramic radiator comes with a lifetime warranty.
Find your nearest KLAFS partners
Select your country to find find your nearest KLAFS partners and contact them today.
RAL quality mark ensures KLAFS infrared cabins are a safe choice
RAL quality marks stand for consumer protection in almost all areas of life. Deciding on a product or service is becoming increasingly difficult these days as offers from home and abroad are constantly increasing. Therefore, it is difficult to distinguish good quality from poor quality. The RAL quality mark offers reliable orientation and protection against an expensive mistake. Where it is found, consumers can expect competent staff and high-quality equipment, safety and protection for the environment, user-friendliness and cost-effectiveness, and more. RAL is the independent institution responsible for the creation of RAL quality marks. The RAL Quality Associations are responsible for the awarding process and decisions. Quality-conscious service providers and manufacturers have joined forces in these quality associations recognized by RAL. Only companies that voluntarily submit to the strict RAL quality and testing regulations are granted the right to use the RAL quality mark. Compliance with these regulations is ensured by regular in-house and external monitoring. Currently, there are more than 160 RAL quality marks for thousands of products and services. They are awarded by more than 130 RAL Quality Associations, to which more than 9,000 member companies from all sectors of industry in Germany and abroad belong.
Dreamlike wellness areas and clever solutions. Get interesting ideas for your own project now!
Show all references
KLAFS global
KLAFS products are only available from KLAFS. Contact your KLAFS partner now to find the right product for your needs and requirements.
Find KLAFS Partner
Contact KLAFS
Do you have any questions about the KLAFS company or our products? We will be happy to get back to you!
Contact KLAFS
Order Catalogue
Get inspiration around sauna, spa and wellness with our free catalogues.
Order catalogue