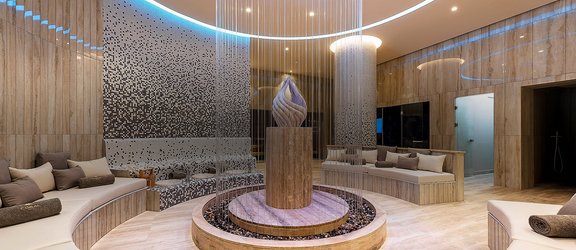 Individually designed relaxation areas
When it comes to the relaxation area, you have a lot of design freedom with KLAFS: With the modular IKONO spa & outdoor furniture edition, the sunlit meadow SONNENWIESE® tanning facility, the ergonomically shaped LINEA heated lounger or the SWAY pendulum lounger, your relaxation zone can be custom-designed to match your spa.
LINEA heated lounger
Your guests will also feel warm all the way through on our LINEA heated lounger, thanks to the spacious, ergonomically shaped and heated reclining surface. And so that
you can relax too, we have equipped LINEA with a hygienic, easy-to-clean, non-porous and durable surface. Optionally covered with porcelain stoneware tiles or glass mosaic and available in three different base variants, the LINEA heated lounger adapts individually to your relaxation room.
Relaxation loungers
The comfortable sitting and tilting SAUNACHAIR lounger convinces with a frame made of stainless steel as well as water- and UV-resistant covering in beige. The armrests are made of teak. The sauna lounger invites you to relax both in the relaxation area and on the terrace and balcony, in the garden and outdoor areas. The SAUNALOUNGER relaxation lounger has a stainless steel frame with wheels and water- and UV-resistant covering in beige. It fits perfectly in the relaxation area, on the terrace or in the garden area.
sunlit meadow SONNENWIESE®
365 days of sunshine a year. Use the positive effect of warmth or sunlight. The elegant KLAFS sunlit meadow SONNENWIESE​​​​​® is available for your relaxation area in two versions: As sunlit meadow SONNENWIESE® U (with UV light) for a natural, long-lasting tan and more vitamin D production in the body, and as sunlit meadow SONNENWIESE® K, with collagen that stimulates the skin's regeneration process to help tighten and smooth it.
SWAY pendulum lounger
The SWAY pendulum lounger is a relaxation lounger in the form of a comfortable bed. Thanks to the swinging motion, the user experiences a scientifically proven synchronization of brain waves and movement. At the same time, breathing and pulse calm down and muscle tone relaxes. Just 15 to 20 minutes are enough to wake up deeply relaxed and refreshed.
SPA BASICS LITE
For you as an operator, our SPA BASICS LITE offer several advantages at once: Because of their thoughtful design, they can be used anywhere in your spa with minimal effort. SPA BASICS LITE are extremely robust and easy to clean. Ease of use and functionality are designed to provide you and your guests with maximum relaxation and well-being.
A frosty experience in the ICE LOUNGE with ATMOSPHERE by KLAFS
ATMOSPHERE by KLAFS
With ATMOSPHERE, the KLAFS sauna opens the window to living nature.
ATMOSPHERE by KLAFS Naturfilme
The artistic and high-quality breathtaking ATMOSPHERE nature films, played on brilliant integrated screens, turn the sauna or relaxation room into an empathetic nature experience.
KLAFS references: ATMOSPHERE at Burghotel Sterr
IKONO spa & outdoor furniture
IKONO spa & outdoor furniture
IKONO spa & outdoor furniture
IKONO spa & outdoor furniture
IKONO spa & outdoor furniture
KLAFS references: IKONO relaxation area at Fit/one Würzburg
LINEA warming loungers in ESPA at the Istanbul Edition, Istanbul, Turkey
LINEA warming loungers Spa Gothia Towers, Gothenburg, Sweden
Relaxation area: LINEA warming lounger
SAUNACHAIR relaxation area
Spa basics LITE im Fit/one Würzburg
Spa basics LITE Fußbecken
Spa basics LITE Fußbecken
KLAFS references: Relaxation room with SWAY swinging loungers at Hotel Waldstätterhof, Brunnen, Switzerland
KLAFS references: Kokon Fitness & Spa, Ruggell, Liechtenstein
Two of the innovative SWAY swinging loungers with ceiling-mounted sunlit meadow SONNENWIESE® in a first-class wellness area
KLAFS global
KLAFS products are only available from KLAFS. Contact your KLAFS partner now to find the right product for your needs and requirements.
Find KLAFS Partner
Contact KLAFS
Do you have any questions about the KLAFS company or our products? We will be happy to get back to you!
Contact KLAFS
Order Catalogue
Get inspiration around sauna, spa and wellness with our free catalogues.
Order catalogue