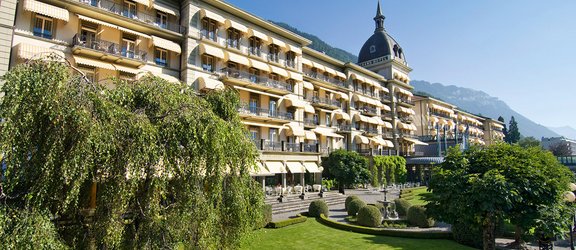 Victoria-Jungfrau Spa
Interlaken, Switzerland
Idea & concept
Over the last century the traditional tavern changed into a modern luxury hotel. A development that is also reflected in its spa: warm earthy tones, premium walnut woodwork and atmospheric lighting effects create a unique ambience where time seems to stand still.
Dimensions
Total area: 5,500 m². Heat experience zone on 250 m²: Finnish sauna, a steam room each for ladies and gentlemen, cool-down area with experience showers and ice fountain in quartzite and a cosy candlelit lounge with open fire.
Adjacent to the light-flooded hotel boulevard in glass and steel, which serves as reception lobby and connects the complexes Victoria and Jungfrau, the spectacular Victoria-Jungfrau Spa was built in 1991. It was extended by the 'Bel Air' wing in 2002. In 2011, the heat experience zone harmoniously complemented the spa.
VICTORIA-JUNGFRAU GRAND HOTEL & SPA
Höheweg 41
CH-3800 Interlaken
Switzerland
Victoria-Jungfrau Grand Hotel & Spa, Interlaken, Switzerland
Victoria-Jungfrau Grand Hotel & Spa, Interlaken, Switzerland
Victoria-Jungfrau Grand Hotel & Spa, Interlaken, Switzerland
Victoria-Jungfrau Grand Hotel & Spa, Interlaken, Switzerland
Victoria-Jungfrau Grand Hotel & Spa, Interlaken, Switzerland