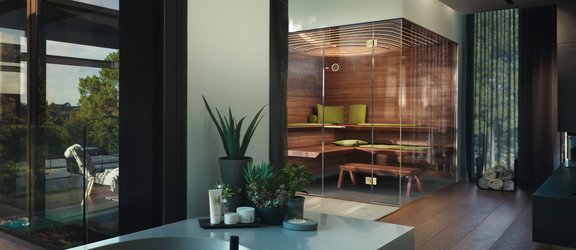 Ideal for in the sauna
Made from Lyocell fiber
Sauna cushions and mats for well-being
MOLLIS®, borrowed from the Latin adjective for "soft" and "comfortable", is a series of mats, bolsters and pillows in various sizes especially for the sauna. The specialists at KLAFS have invested more than two years in the development of a textile series.
For those who want to make the sauna experience more comfortable.
Comfort completely rethought
Wood - many think - should be the only material inside a sauna. It's true: The incomparable scent, the natural atmosphere, the crackling - a sauna represents the natural product wood. But can even MORE coziness be brought in? Of course!
Made for the sauna
Conventional pillows are not suitable for use in the sauna. Sauna textiles must be specially adapted to the conditions in the sauna, such as high temperatures, humidity and heavy sweating. This is exactly what KLAFS has achieved with the development of MOLLIS®.
The two components of MOLLIS®
Lyocell fabric cover
The fabric cover is made of an innovative and sustainably produced Lyocell fiber of botanical origin and is derived from wood. In contrast to viscose, fewer additives are used in the manufacturing process, making the fiber particularly environmentally friendly and biodegradable. Textiles made of Lyocell fiber are more absorbent than cotton, softer than silk and cooler than linen. Lyocell is thus a textile all-rounder.
3D spacer fabric inlay
A 3d spacer fabric produced with the latest precision weaving technology forms the core and inlay of the MOLLIS®. This structure of the finest padding threads is characterized by high air permeability and thermal insulation, light weight, long life and permanent elasticity. In addition, MOLLIS® are washable and disinfectable, allergy-friendly and fully recyclable.
Features
Revolutionary new room atmosphere and design possibilities
Cover made of Lyocell fiber and thus particularly durable
Extremely low heat capacity and thus virtually no heat transfer to the skin
The inlays remain pleasantly dry and do not retain moisture
Simplest handling during use and cleaning
Long service life and high hygienic safety at the same time
Available in brown, ivory, blue and light green, and in various sizes
Find your nearest KLAFS partners
Select your country to find find your nearest KLAFS partners and contact them today.
KLAFS global
KLAFS products are only available from KLAFS. Contact your KLAFS partner now to find the right product for your needs and requirements.
Find KLAFS Partner
Contact KLAFS
Do you have any questions about the KLAFS company or our products? We will be happy to get back to you!
Contact KLAFS
Order Catalogue
Get inspiration around sauna, spa and wellness with our free catalogues.
Order catalogue