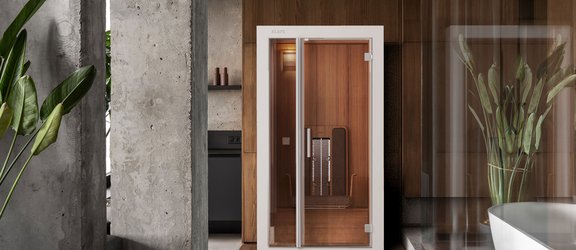 Really fits everywhere
Manually extendable
Contracts and expands as needed.
Thanks to the S1 INFRARED MANUAL sauna, you can enjoy beneficial, localised infrared heat very easily at home. The KLAFS infrared cabin S1 MANUAL. When retracted, the S1 INFRARED MANUAL measures only 60 cm in depth; when extended, it offers plenty of space for relaxing bathing pleasure.
S1 Infrared Manual
Simply feel good.
The unique zoom concept of the S1 INFRARED stripped back to the essentials: extend the S1 INFRARED MANUAL, by hand.
Conceivable in any room
The INFRARED S1 MANUAL SINGLE is equipped with an infrared seat. With a depth of only 60 cm and a width of 112 cm when retracted, it is particularly compact.
Uncomplicated
The S1 INFRARED MANUAL sauna can be conveniently connected to any household socket and operates with alternating current (230 V). There is no need to make any alterations to the electrical system before installation.
Adjust, lean back, relax.
A cable remote control is used to choose between Soft, Medium or Intensive settings. This allows the beneficial effects of the infrared to be fully experienced, without over-stressing the skin.. Four SensoCare sensors in the infrared radiator measure the skin temperature without making contact during the entire programme and adjust the intensity of the radiation to your body.
KLAFS Catalogue
... and the world can wait. Immerse yourself in some time-out with reading and relaxation. The KLAFS catalogue has 117 pages dedicated to the sauna lifestyle. Factsheets on every single KLAFS product await you between interesting stories.
Order our catalogue free of charge to your home and start your journey to your own dream sauna with precious time-out from hectic everyday life.
Order catalogue
S1 Infrared Manual

equipment
Equipment S1 INFRARED MANUAL
Infrared seat
The seat is the focal point of the interior design. It offers comfort with the optimal position and ensures that the back radiator gives a targeted and intensive effect. The seat and backrest are covered with hard-wearing textile leather, available in in chocolate or white. Comfortable armrests complete the seat and intensify the relaxation process.
Interior trim
The interior walls and seats of your S1 INFRARED MANUAL sauna are made of naturally grown, knot-free hemlock veneer wood. On request, the interior panelling is also available in fragrant Swiss stone pine veneer, very classic oak or the elegant walnut veneer.
Low-temperature ceramic radiator
The patented low-temperature ceramic heater relies on the warming power of infrared C-rays and not only meets the RAL Quality Association guidelines but is of such high quality that it has a lifetime warranty.
SensoCare infrared heating
To ensure that the infrared source can fully develop its beneficial effect and your skin is not overly stressed, four SensoCare sensors in the infrared radiator measure the skin temperature without contact throughout the program and automatically adjust the intensity of the radiation to your body. With this assurance, you can simply sit back, relax and let the pleasant warmth act on the body.
Read more
Infrared control
The control takes place by means of a cable remote control. You choose between the levels Soft, Medium or Intensive and thus define the target temperature of the skin (Soft = 42°C, Medium = 43° C, Intensive = 44°C). A clothing mode allows the application also with clothing.
CLARA Wall lamp
The CLARA wall lamp provides atmospheric lighting during infrared application. It can be operated via an illuminated switch.
Features
The elegant design of the S1 INFRARED sauna combined with manual pull-out via convenient pull mechanism.

Suitable for any room thanks to socket connection (230V).

With one seat, dimensions of the infrared cabin: SINGLE: 201 x 112 x 160 cm, retracted 60 cm

Infrared C rays warm the back area particularly intensively.

The patented low-temperature ceramic radiator comes with a lifetime guarantee.

Targeted heating with automatically controlled intensity thanks to SensoCare sensors.

Simple control via cable remote control

Many equipment options for exterior trim, interior trim and seat covers

Glazed front for beautiful views in clear glass, bronze glass or mirror front

A choice of one or two side windows
Find your nearest KLAFS partners
Select your country to find find your nearest KLAFS partners and contact them today.
KLAFS global
KLAFS products are only available from KLAFS. Contact your KLAFS partner now to find the right product for your needs and requirements.
Find KLAFS Partner
Contact KLAFS
Do you have any questions about the KLAFS company or our products? We will be happy to get back to you!
Contact KLAFS
Order Catalogue
Get inspiration around sauna, spa and wellness with our free catalogues.
Order catalogue