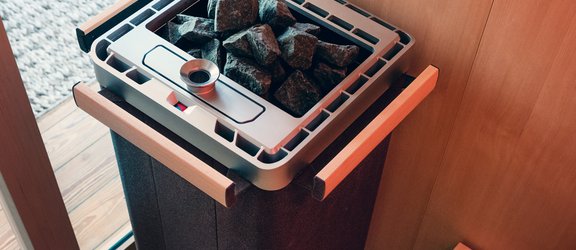 FERO sauna and SANARIUM® heater
Small and compact
In two sizes
Compact sauna and SANARIUM® floor standing heater in two sizes
With its elegant design based on the MAJUS sauna heater, the FERO fits harmoniously into many of our sauna series. On request, the FERO is available with a SANARIUM® function and in two heater sizes, each flocked with visible sides that protect the cast aluminium frame basket and railing against combustion.
FERO sauna and SANARIUM® heater
For any sauna
An attractive, compact and flexible sauna heater that leaves nothing to be desired.
High quality for long-term enjoyment
Our heaters are of high quality, safety and durability. Thanks to particularly favourable airflow and thus low air outlet temperatures, they create a perfect feel-good climate.
Finds a place in every sauna
For smaller sauna floor plans where it may prove difficult to fit the MAJUS, the free-standing FERO heater offers an alternative. With its unobtrusive design, it fits harmoniously into many sauna series and - despite its compact size - makes intensive infusions possible owing to its 40 kg of sauna stones.
Features
Elegant, compact sauna free-standing heater matching the MAJUS design line
Two heater sizes: 3.3 - 4.5 KW connected load and 6 - 12 KW
VDE-tested
Flocked outer jacket and railing protect against the risk of burns
Cast aluminum frame stone basket
Original Finnish olivine stones
Also available as a SANARIUM® heater
Steam outlet with aroma cup on front side
Quiet, pleasant vaporizer sounds
Water tank level indicator
Find your nearest KLAFS partners
Select your country to find find your nearest KLAFS partners and contact them today.
Will the FERO sauna heater fit in my desired sauna?
The sauna heater should do one thing above all: optimally heat the sauna and provide the perfect sauna climate. Therefore, it is essential that the selected heater fits the size of the cabin. 
The VDE-tested FERO sauna heater is available in two sizes with corresponding dimensions, heating capacities and stone quantities. The FERO is therefore suitable for both small sauna cabins and larger models. The dimensions of the smallest variant are 820 x 300 x 300 mm (H x W x D). In this size, the heater is available with a heating capacity of 3.3 kW/230 V and approx. 7 kg of infusion stones, as well as with a heating capacity of 4.5 kW/400 V and approx. 14 kg of infusion stones. The large version, with dimensions of 870 x 400 x 400 mm (H x W x D), is available in heating capacities of 6, 9 and 12 kW/400 V and approx. 40 kg of original Finnish olivine stones.
KLAFS global
KLAFS products are only available from KLAFS. Contact your KLAFS partner now to find the right product for your needs and requirements.
Find KLAFS Partner
Contact KLAFS
Do you have any questions about the KLAFS company or our products? We will be happy to get back to you!
Contact KLAFS
Order Catalogue
Get inspiration around sauna, spa and wellness with our free catalogues.
Order catalogue