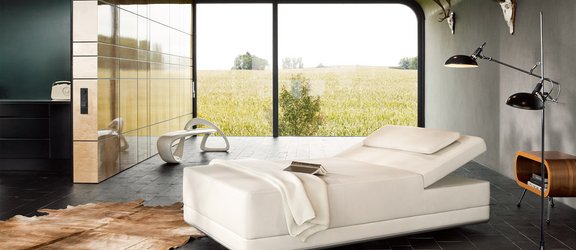 The fast way to power nap
Pure relaxation with swinging movement
The pendulum lounger for restful power napping.
You can now easily awaken new energy while you sleep: with power napping. All you have to do is close your eyes as SWAY, the new relaxation lounger from KLAFS, lulls you into a restful short sleep with a gentle swinging motion.
SWAY pendulum lounger
The first lounger that moves to help you rest.
Swinging motion for restful sleep
After just a few seconds, you'll be welcomed by the pleasant swinging sensation of SWAY. As the stresses of everyday life melt away, the swinging frequencies will ensure that both body and mind are completely at rest.
Deep relaxation
A deep sleep is not required for relaxation with SWAY - just 15 to 20 minutes is enough to wake up deeply refreshed and reenergized. Your concentration and performance will increase, allowing you to continue your day with newfound vigour.
Study results
Study results from the Fraunhofer IAO have confirmed that the SWAY's swinging motion allows the user to relax much faster than with ordinary rest.
SWAY pendulum lounger

equipment
Structure of the SWAY
The technology and adjustable feet disappear entirely under the lounger, so it not only feels like they are floating - it looks like it too! The height-adjustable feet also provide a practical, firm and safe stand on any floor.
Colour selection
You can choose the colour of the covers according to your taste and personal interior style. The soft textile leather feels good and is extremely robust. The care and cleaning are simplicity itself. First-class workmanship and the usual high standard of KLAFS quality guarantee that SWAY will make you feel good not just for 15 minutes, but for many years.
Remote control
Just as elegant as it is functional: The height-adjustable headboard adjusts to your preferences at the touch of a button and, like the swinging function, can be conveniently controlled via remote control.
Motor and substructure
The motor and substructure were refined to perfection by our experts in collaboration with scientists from Fraunhofer IAO. The result: The motor operates almost silently for maximum comfort and relaxation.
Safety concept
A safety concept that inspires the TÜV: The aluminum-coloured painted end strip not only looks elegant, but also ensures maximum safety at the same time thanks to the Safety Stop feature.
Features
The pendulum lounger for your home, where you can forget about everyday life in minutes.

Users are proven to relax faster due to the special swinging motion.

Modern and timeless design in the colour of your choosing.

First-class workmanship and the usual high standard of KLAFS quality make SWAY an exclusive piece of furniture.

Convenient control via remote control and a sophisticated safety function.
You can easily purchase the perfect addition to your wellness area at a KLAFS partner near you. Get advice now!
Find your nearest KLAFS partners
Select your country to find find your nearest KLAFS partners and contact them today.
Dreamlike wellness areas and clever solutions. Find interesting ideas for your own project now!
Show all references
KLAFS global
KLAFS products are only available from KLAFS. Contact your KLAFS partner now to find the right product for your needs and requirements.
Find KLAFS Partner
Contact KLAFS
Do you have any questions about the KLAFS company or our products? We will be happy to get back to you!
Contact KLAFS
Order Catalogue
Get inspiration around sauna, spa and wellness with our free catalogues.
Order catalogue